Blaiz Journal - Blaiz on the Road: 24 hours in Buenos Aires with Harry Hastings, founder of Plan South America
An inspiring story of self-discovery and turning one of South America's most vibrant cities into home. Blaiz meets Harry Hastings, who founded a luxury, bespoke travel company with a twist. Each trip is curated to your desire, resulting in an immersive and culturally rich experience to some of the most colourful corners of the planet.
Harry takes us on a virtual tour of his Argentina and if like us, this has you reaching for your passport, head to https://www.plansouthamerica.com/ to experience it all first-hand. If you ever get to meet the man himself, don't ask for Tango lessons…
You moved from London to Buenos Aires, what inspired you to move?
Adventure, curiosity, escapism. London is tough at 21 and I didn't have a clue what I wanted to do. I enrolled at a Spanish school, found an internship at the Buenos Aires Herald and set about getting to know my new city. Argentina was beginning its recovery from the greatest financial meltdown in history. Young Porteños, who had escaped to North America and Europe for the worst of the crisis, were returning in droves to set up bars, galleries, cafes and restaurants. For a fresh-faced graduate, it was an intoxicating introduction to a new world.
What makes Argentina special?
Its geography at the end of the world. Few places are as vast and wild and sparsely populated. I love its blend of European and indigenous traditions, old world and new; the Andes mountains, which run the length of the country through 5,000km of desert and vineyards, deepwater lakes, glaciers and windswept plains before tumbling into Cape Horn; the gauchos and the romance, lore and pastoral wisdom they embody.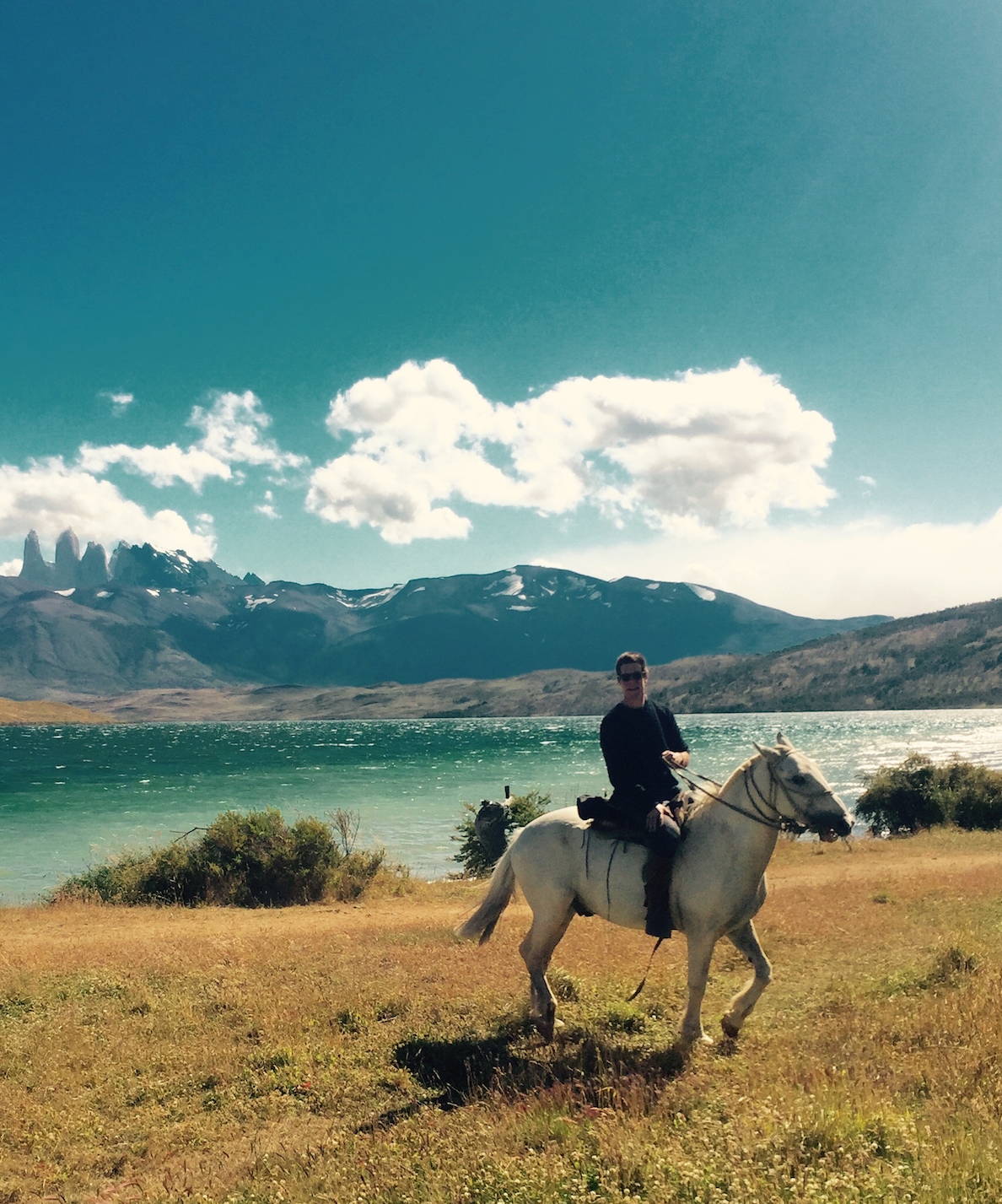 Harry Hastings, founder of PSA; Plan South America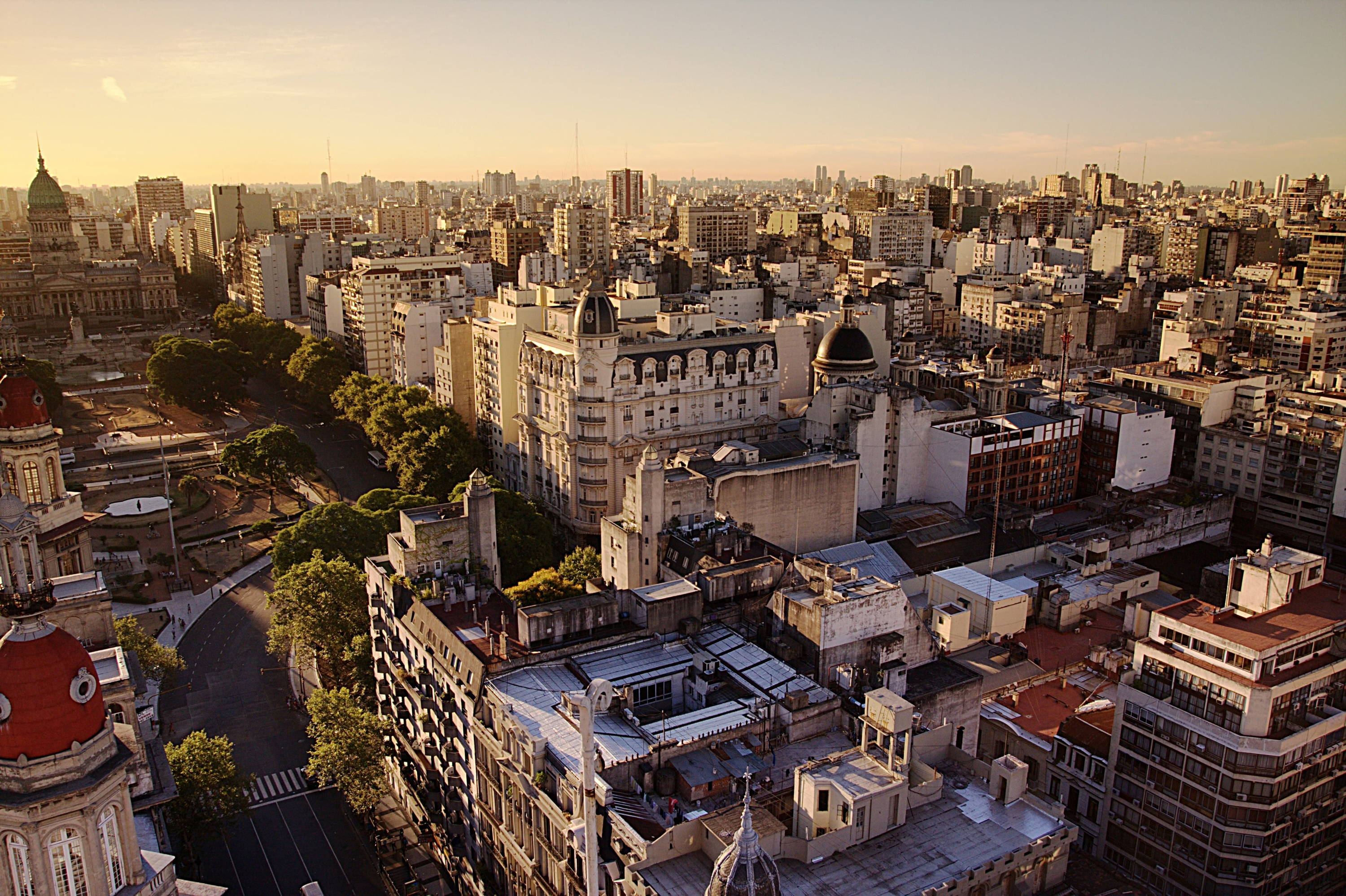 Buenos Aires, picture courtesy PSA
We have 24 hours to spend in the capital, what do you suggest we do?
It's a warm Saturday morning in late November. The jacaranda is in bloom and the parks and plazas are filling up. You're staying either at the Palacio Duhau in Recoleta, or at Francis Ford Coppola's boutique, Jardin Escondido, in Palermo Soho.
Find a nice cafe for breakfast - coffee and medialunas (sweet croissants).  A table under the huge rubber tree in Recoleta's Plaza Francia (traditional), or Villa Crespo's Cafe Crispin (funky). Settle into the city's morning rituals: the doormen hosing down the entrances to their apartment blocks, the professional walkers handling some 15-20 dogs at a time, the joggers, newspaper vendors and late night revellers threading their way home to sleep it off.
Hop on one of the city's ubiquitous buses and head to San Telmo antiques market before the crowds descend, or explore the pretty residential neighbourhoods of Villa Ortúzar and Colegiales, great for photography and off the usual tourist beat.
Caseros is a favourite spot for lunch. Grab a table by the window, ceiling fans whirring overhead. Order a bottle of chilled Torrontes from the high-altitude vineyards of northwest Argentina. The menu is modern Argentine, fresh and light.
After lunch, head north along cobblestone streets, past colonial mansions, century-old cafes, shaded plazas and market stalls. It's about a 4km walk through old town, past the famous Plaza de Mayo and government Pink House (originally painted in pigs' blood, pictured below), over 9 de Julio, the widest street in the world, before hitting Recoleta, the smart Parisian quarter.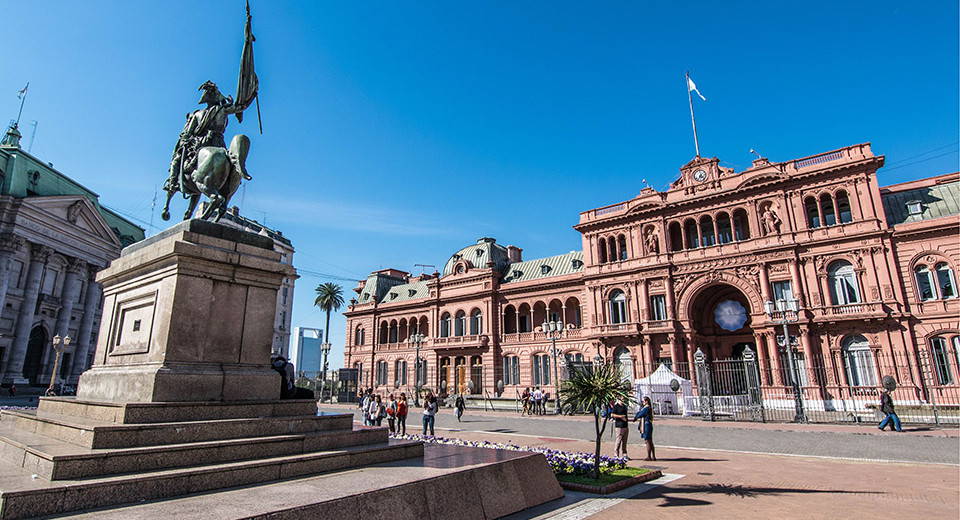 Casa Rosada, Buenos Aires
You'll be home in time for a siesta and a drink on the terrace.
Next stop: fail-safe parrilla, Don Julio (pictured below). You'll have an outside table for 9pm. These suggestions may need editing for a vegan audience. Crisp, tender mollejas (sweetbreads) with lots of lemon, chorizo (sausage), morcilla (blood sausage), chips with garlic and parsley, a mixed salad, fillet steak, very thinly sliced crispy pork loin and the richest and juiciest cut of them all, entraña (skirt). Sides of chimichurri and salsa de criollo are crucial. As are a bottle or two of good Malbec.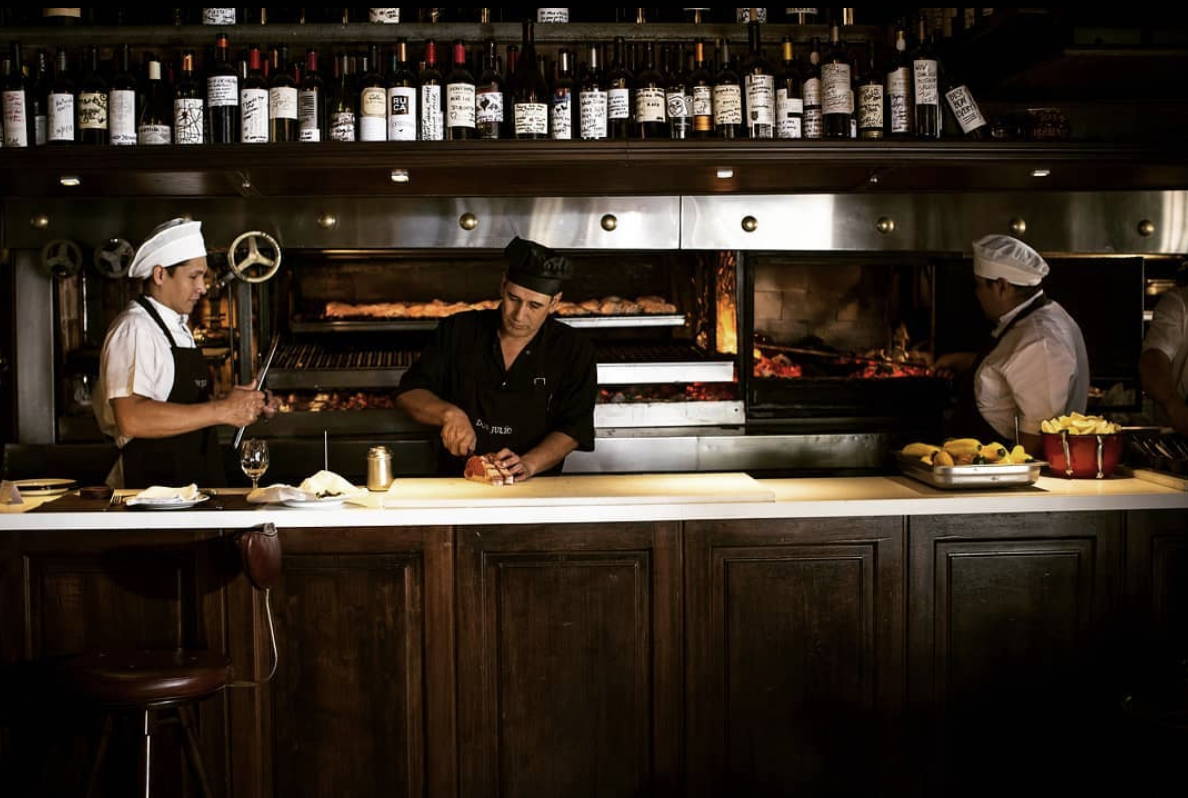 Don Julio parrilla, Buenos Aires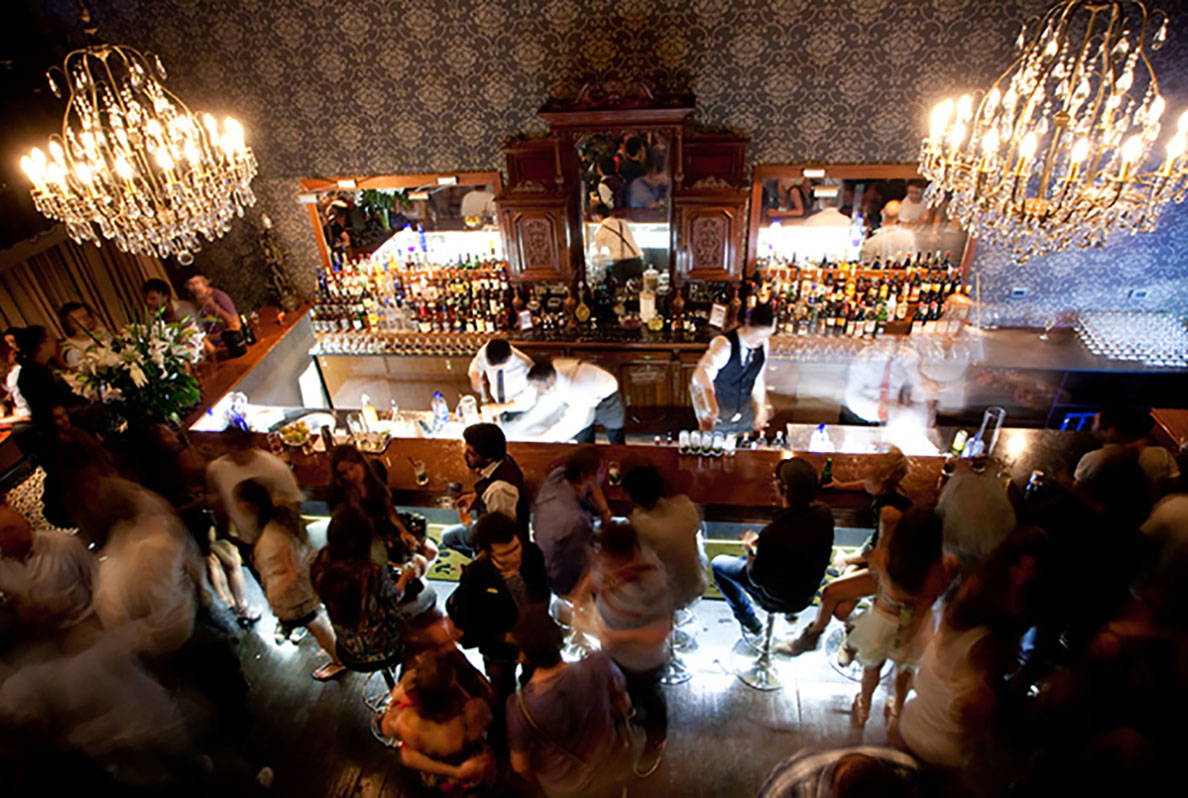 Frank's cocktail bar, Buenos Aires
Next stop: a milonga to watch some tango. Catedral is a favourite. It's not the purest or best dancing, but the venue - an old grain silo - is sensational.
It's cocktail time and only a short taxi ride to Frank's (pictured above). We'll give you the password to punch into the phonebox for entry. Those with gas still in the tank can head to Cocoliche around 1am for the best underground music scene, or to Tequila, for the glam set.
Best place to eat and what should we order?
Occupying a pretty Recoleta street corner, Roux never puts a foot wrong. The service is excellent (rare in Buenos Aires) and the seafood - particularly the octopus risotto - is peerless.
iLatina's sensational 7-step tasting menu through Latin America is also worth special mention.
Best place for an adventure outside of the capital?
For those looking for wilderness, there are few places wilder with more opportunity for adventure than Patagonia. Closer to the city, you can hop over the River Plate to Uruguay by ferry (1hr), to the sleepy riverside town of Colonia del Sacramento- all bougainvillea, cobbled streets and tidy colonial townhouses. Or to a little house we take in Tigre delta, a network of islands and tributaries, navigable only by boat. A friend once described the knot of jungle and overgrown waterways as a cross between Apocalypse Now and Dawson's Creek.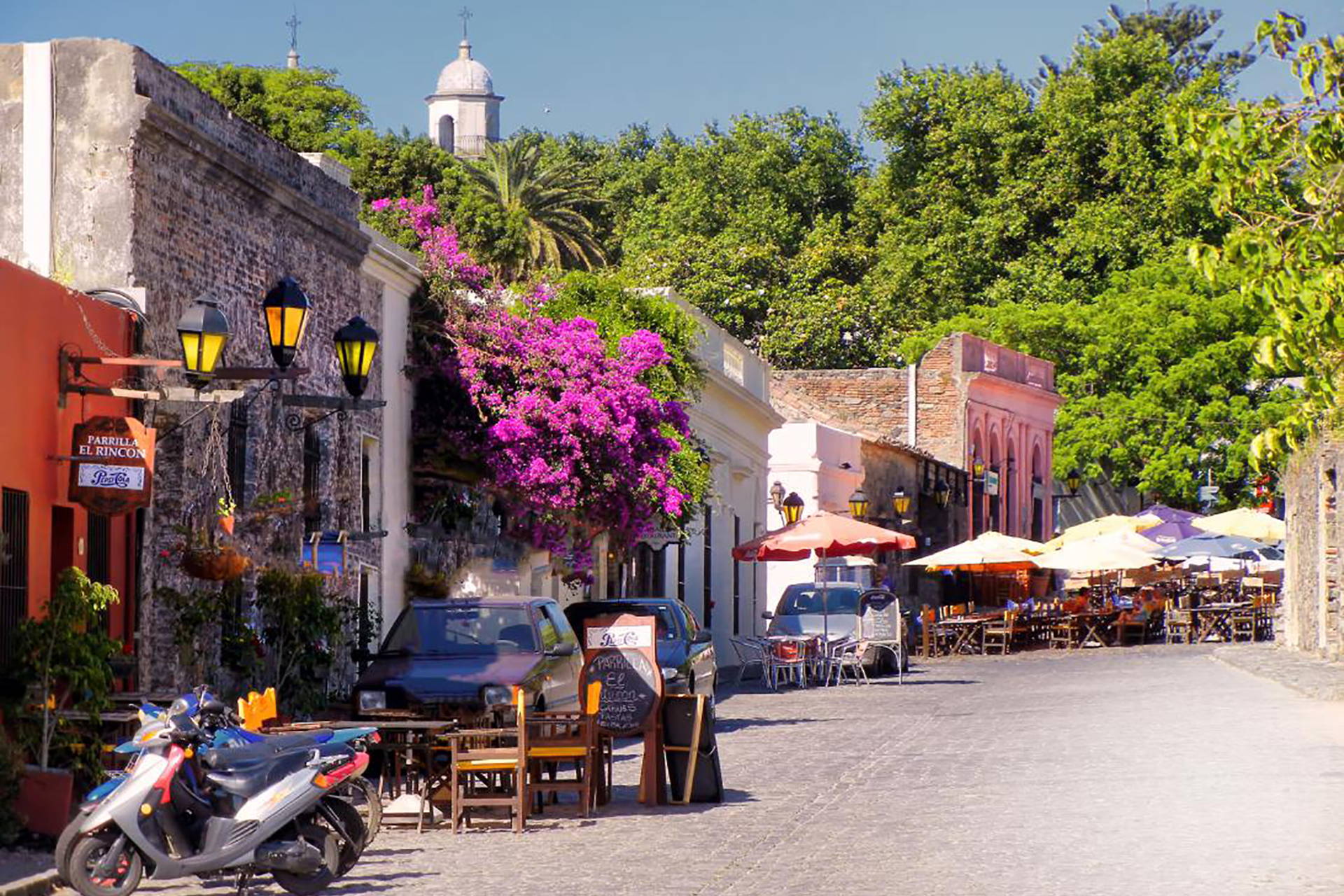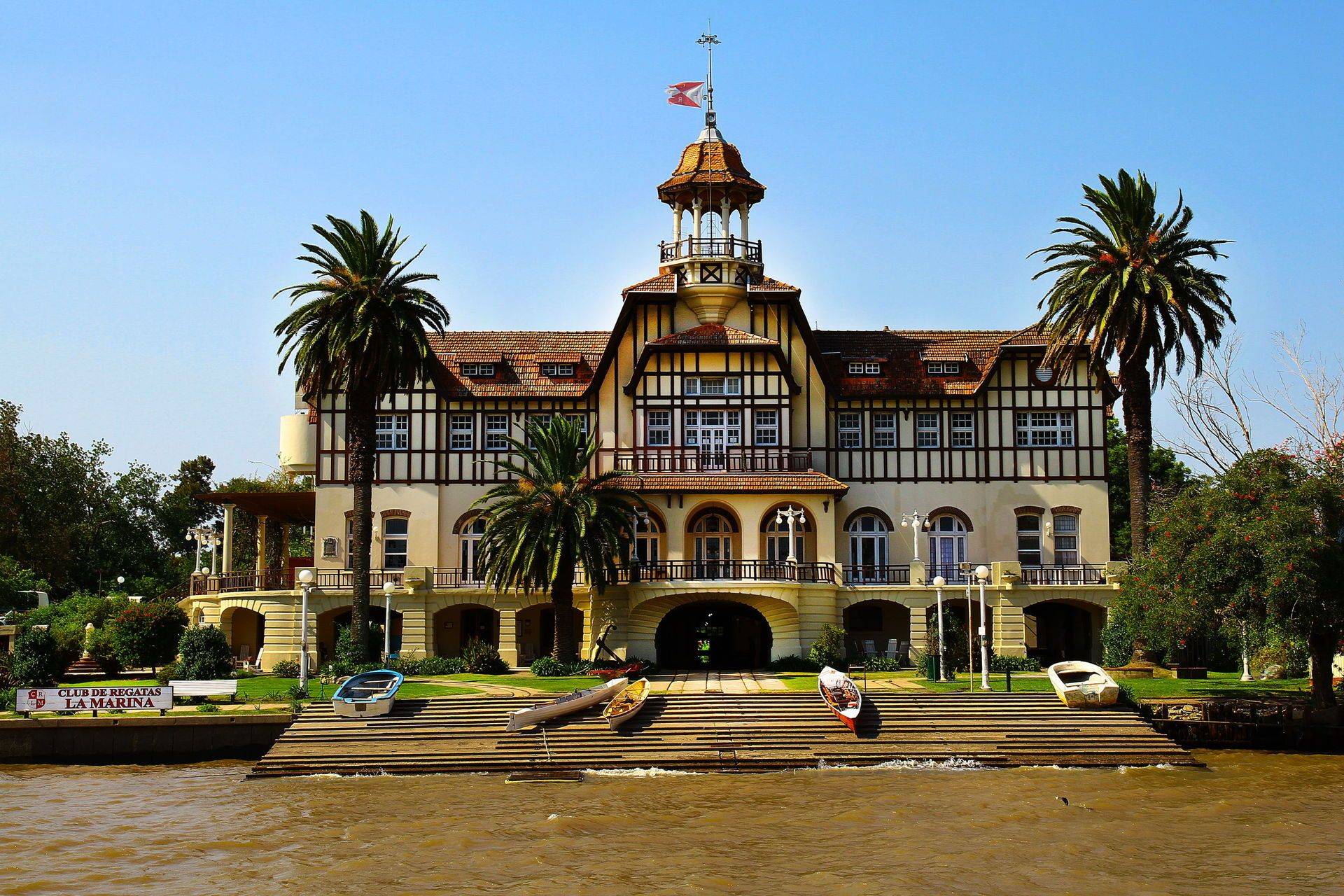 What are your top recommendations on Argentine culture (books, music, cinema..)?
We give all clients a culture pack before they travel - a collection of books relevant to their destination, some movie suggestions and a Spotify playlist of our favourite cumbia, folk, son, hip hop and bossa nova. I'd love to get an interview with Gilles Peterson and ask him to curate a PSA mixtape.
Argentina is producing great movies at the moment.  I find watching work by Juan José Campanella, Mario Soffici, Fabián Bielinsky warmly nostalgic.
I recently enjoyed a collection of short stories by Mariana Enriquez, Things We Lost in the Fire, a dark and surreal observation of contemporary life in Argentina. Living in Buenos Aires, I dipped into Sabato, Borges and Cortázar, but was always more drawn to Amerian and British authors writing about worlds that seemed, at the time, remote and reassuring.
Best travel anecdote?
The best ones usually involve a measure of disaster.  On a road trip from Argentina to Colombia, we took directions from a drunk Bolivian man and drove the wrong way up a mountain pass to over 5000m altitude. The route was largely impassable so I walked ahead, clearing boulders from the road. After 6hrs of backbreaking toil, we reached the summit and found ourselves on the Chile/Bolivia border staring wide-eyed at messages daubed on rocks in white paint - 'Peligro, campo de minas'.  We didn't have many disagreements during that trip, but the discovery that we had driven 6hrs in the wrong direction and ventured into a minefield prompted an explosive row.
Buenos Aires, picture courtesy PSA
Finally, the BLAIZING questions…
Beach or city?
I love the sea, but get fidgety on the beach. So city it is. And if I'm allowed a coastal city, it's Rio, in a heartbeat.
Caipirinha or Colombian Coffee?
Caipirinha. Caipiroska. Caipirissima.
Samba or Tango?
Samba! I was once teased by a tango teacher in Buenos Aires that I was the least promising student she had ever taught.
Dia de los Muertos or Brazilian Carnival?
Carnival!
Almodovar or Jodorowsky?
Almodovar. But your question prompted me to investigate Jodorowsky's Endless Poetry, which I watched last night and thought joyfully weird and wonderful.
Dulce de Leche or Açaí bowl?
I'm going with the Argentine classic, panqueque de Dulce de Leche.
Penelope Cruz or Salma Hayek?
Am I allowed Alexa Chung?
---